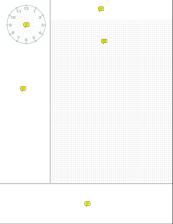 Yes, I use the Cornell Note System in my daily life. I find it a great way to organize my notes and ideas from Meetings, Conference Calls, and What I did or need to do each day. I also use it when reading a new book that I want to take some notes on. I even draw the dividing lines in my notebooks now to help me organize my thoughts there as well. 
I made a modified version of Note Paper from Cornell-Notes.com to include a time clock to help me track my time and what I need to do and what I have completed and what I have coming up. 
I posted it on Scribd.com for all to use.
To use the clock in the upper left  to shade in the time (Begining to end) and mark a Letter or symbol near it and Use the Letter / symbol to Highlite the notes from that time slice.  I also use this with the Cue Column to track my upcoming meetings and schedule for the day.
How many times have you wondered what you did and have not clue where your day went – Keeping this with me allows me to make notes and annotate what I complete and see why I had to push other things off of my plate for the day. In the notes area I am able to write the tips and note things that I didn't know and this allows me to update documentation and let others know the little fixes I used. I keeps these daily and use the summaries to help me find info I need from past notes / days.
And I have scheduled time weekly  later in the day Friday (while the week is still fresh in my mind) and look over the past week and see what info was good – I sometimes will highlight portions or copy off data and store it in other notebooks for future reference material. But I also scan the more important pages and put it into my evernote  system as well as that come with me on my iphone and it is easily accessable via their web page.
I also want to note every day I  look over the previous day and get my new notepage prepared for the day. Writing down what I need to do – checking my online calendar and seeing what I have scheduled for myself.  This way I have that info at hand even if I am not at my desk. This is also when I summarize my previous days notes making the weekly summary on Friday's even easier. This only take me about 10 to 20 mins each morning but it saves alot more time through out the day then what I put into it.
Technorati Tags: Cornell, Notes, Note, paper, Organization, Sytem, business, calendar, schedule, free, organizer