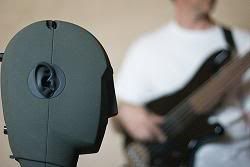 I really love my music – I carry it pretty much everywhere I go – I have a Archos 605 Media Player (It is one of the best around) Besides having an iPhone as well.
Recently I added the SRS Audio Sandbox on to my PC to add depth to all the sound and music I play on the computer – I will be writing a more detailed review in the future about this. But in the mean time – If you don't have it and want your music to really pop – I fully recommend purchasing it for your PC.
This gets me to todays information – Virtual Sounds or Auditory Illusions – I recently came across this Page @ One Mans Blog – about getting a Virtual Haircut – This is amazing recording – They are recorded using what is called Holophonics – I recommend using headphones or the SRS Labs Audio Sandbox – Or even better the SRS Labs Audio Sandbox with Headphones with its headphone 360 mode  – All I can say is WOW – These are really cool and fun to listen to.  
This got me to thinking about some recording my dad used to have and play on the record player – They are the Phase 4 Stereo Recordings from London. I found out you can purchase some of  them at Amazon
and I am currently listening to Mantovani by Mantovoni as I write this entry. Amazon list quite a few – and many are only available on LP – To listen and record these you will need a Record player – I recommend using the either of the following two units from Amazon – ( Audio Technica AT-LP2DUSB LP-to-Digital Recording System with USB ) or ( Ion TTUSB Turntable with USB Record ) I  use the Audio Technica one – I don't own it but I get to borrow it from my brother. Plus don't forget to check out your local library for some of these records – some are able to be loaned out for your listening pleasure.
Technorati Tags: auditory, illusions, auditory+illusions, Phase+4, Phase+IV, Holophonic, Sound, 3d, SRS, Stereo, Music, LP, Records, Record+Player, 45, 33