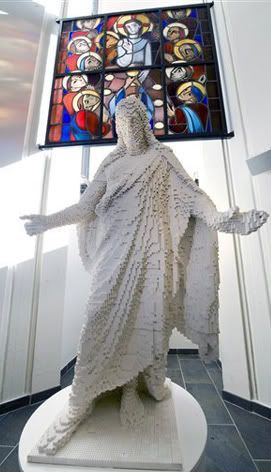 Just wanted to wish Everyone A Happy Easter and Share this Great Easter Rendering of Jesus Done completely in Donated Legos – Made of 30,000 Legos – It took 40 volunteers 18 months to complete – It is a replica of Danish sculptor Bertel Thorvaldsen's "Christus" statue. I just find this amazing. Having visited one of the Lego Stores and seeing some of their work which was amazing this done by volunteers working with the donated legos of Jesus looks stunning. This replica stands about 6 Foot Tall and can be found at the Onsta Gryta church in Vasteras Sweden.
Full Article can be found at: AP News on Google.
Technorati Tags: Lego, Jesus, Sweeden, Christus, Statue, Easter, 2009, He, Has, Risen, Onsta, Gryta, Church
.
.
.
.
.
.
.
.
MT