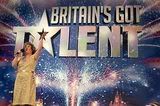 Reading some of the latest blogs this weekend – I was catching up on VideoTVFilm.com and he Shared the video of Susan Bolye Singing on Britian's Got Talent and I just had to share this video here on Merlin's Tower as well – All I can say is WOW! – She is an amazing singer and really has some talent.
This relates back to a previous Post about Hacking your Brain – and One of the things that is mentioned there is to Follow your Passion and Susan did just that and it paid off for her. Take a look at it and use Susan as a inspiration to you to follow what you are passionate about. She has been singing for years and following her passion – Now use this to find what your passionate about and do something about it  today.
Check out this video of her singing -I Dreamed a Dream (Almost 30Million Views on You Tube)
and here is another one of her singing – Cry Me a River
Links:
Susan Wants to be as famous as Elaine Page – Here is her page on the internet – I would never had heard of her except because of Susan.
and here is a video of Elaine Page Singing the Same Song as Susan
And Here is one of Susan Boyle's Fan Sites
Check it out – There are many other links to her videos and interviews that she has done over the past week.
Again Congrats Susan – Way to go!
Technorati Tags: susan, boyle, britan, got, talent, singer, amazing, passion, dream,