This has to be the ultimate Lego Block – and proof that geeks can sorta grow up and marry.
This Lego Ring (Via – Color Me Katie) – You must check out her blog – It is so interesting and full of life – I love it.
Not much can be said about this ring – other then it is really cool and a great way to incorporate your life and love into one meaningful moment.
I went to a wedding recently and the groom built the wedding topper for their cake out of Lego and I loved it
Congrats to Thomas and Roxanne! – May you have many Happy Years Together!
and one alternative look at the Lego Ring – In use.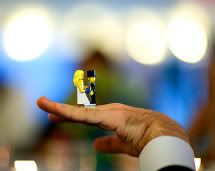 Tags: Wedding Thomas Lego Ring Cake Topper Cake+Topper Lego+Ring