OK, I am addicted to this game. I really is quite a fun game to play. What this game is Pictionary on Steroids. When you purchase the game you get a basic set of colors and a blank canvas. Find yourself some friends to play by Username or by friends that are playing on Facebook.  But here is a little history about OMGPop and their deal with Zynga. NYTimes did a great article on this.
I am not the best artist – and I find it sometimes frustrating not having the full set of color available right off the bat. But that is the fun of the game – you earn your color / stripes by purchasing them with the coins you earn for drawing and guessing correctly.  Currently I have 2 additional sets of color. I am close to earning my next set of colors. Just have to figure out what colors I want to purchase.
Here you can see some of the drawing people have done with Draw Something.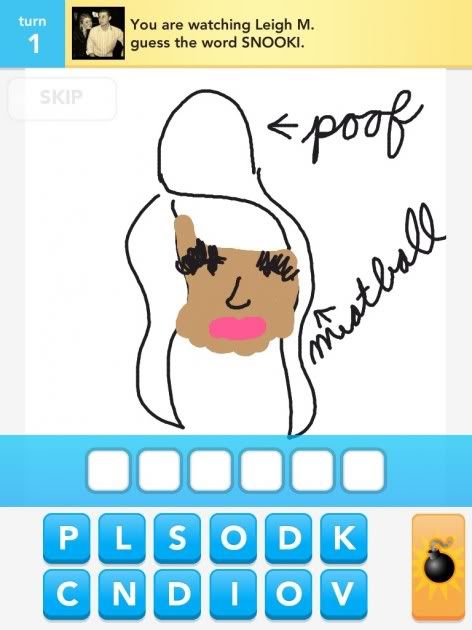 If you really like this game I highly recommend one of the following drawing stylus.
I prefer these two:
Below are my two favorite pens for working on the iPad / iPhone
This pen is one of the firtst ones that I purchased for my iPad & iPhone. I have had this pen since 11/2010 and still working and is easy to use and handle. This is the Alupen from Just-Mobile.
The AluPen is a nice weight and feel and I love the rubber tip. It is thinner then your finger but for detail work it is a little hard to see. that is why I love the next pen. But to be honest I switch between the two quite often. Just depend on how I feel or what is close at hand at the moment.
The AluPen on the iPad screen is smooth on the screen. Very nice to work with. It really doesn't need much of a touch for it to register. This is one of the nicest rubber tipped pens I own. I have tried a few of the cheaper ones first and they just didn't work. I have the Pogo Stylus and it just doesnt'  draw as nice as this one does. The Mushy tip of the pogo is just too soft for me.
This rubber tip is perfect for one of my go to stylus.
The next one I show you on the right  is the Adonit Jot Pro Stylus. I backed this on KickStart and I really am glad I did this really is a nice and a very different type of stylus.
This Uses a clear disk on the tip to do its drawing. I feel this gives a more precise feel and it also glides across the screen. I also love the fact that it has a magnic in it to attach to the side of the iPad. This works really well. I have not had it fall off once..
The Adonit pen come in multiple colors and designs. Their newest also includes a pen to write on paper if you still do that. So you can doodle on paper or on your screen. Just don't mix up the two sides. LOL
Well, Hope to see you playing Draw Something by OMG Pop / Zynga. Let me know your screen name in the comments and I will try playing a game with you.
Happy Drawing.
Merlin