The teaser ad for this full length video made me look for it. This has to be one of the best music videos and commercials for the Super Bowl. I usually watch the Super Bowl for the ads.
A lot went into making this video – Watch it first and see all the events that went into making this.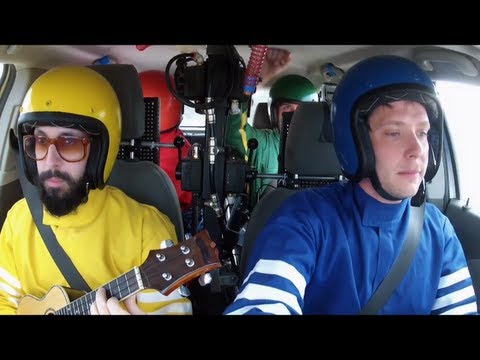 There was 55 Piano's, too many guitars and over 1,100 various musical instruments to make up this video. I really is amazing how OK Go get to do all this. I love their creativity and salute them. I hope the keep this up.
OK Go set up over 1000 instruments over two miles of desert outside Los Angeles. A Chevy Sonic was outfitted with retractable pneumatic arms designed to play the instruments, and the band recorded this version of Needing/Getting, singing as they played the instrument array with the car. The video took 4 months of preparation and 4 days of shooting and recording. There are no ringers or stand-ins; Damian took stunt driving lessons. Each piano had the lowest octaves tuned to the same note so that they'd play the right note no matter where they were struck.


OMGPop / Zynga's Draw Something » « Cello Wars – The Star Wars video you want to watch
Congratulations goes out to the Pittsburgh Steelers
Make Sure to check out the PGHZone for your Steelers Merchandise.
Now we can watch the ad's on Google Video.
As we all watched this exciting game and missed some of the commercials. (Bathroom Breaks, more beer and munchies)
It was just announced on the Google Blog that all the videos of the Advertisement can be found here.
By the Way – Way To Go Stillers – Way to go.
Official Google Blog: This Bowl's for you
Just One Club Card – Combine All Of Your Club Cards » « The Scribbler – Cool Flash Drawing Tool
Go Steelers – What a game to watch yesterday – Can't wait to watch the SuperBowl Game.
And not just to watch the GoDaddy.com Ads either. – I hear they are causing a stir this year as well as they did in the past and I understand that the NFL has to "OK" the ads that will air during the game.
For more info check out Bob Parson's Blog from GoDaddy.com
CCleaner – Crap Cleaner Beta Updated. » « Miquelrius or Moleskine?