In my attempt at Photography – I have been playing with the Tilt-Shift to make a scene look like it is a model platform.
Seeing this Allstate Insurance Commercial on TV today it reminded me how much I like this technique and this would be a fun project to do someday on video.
If you check out Photoshop Nations on Geeks – You can see some of the Tilt Shift Attempts in photoshop.
If you want to learn more about Tilt Shift Photography Take a look here: Wikipedia – Tilt Shift Photography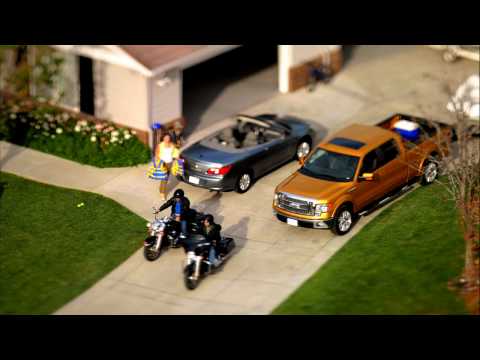 Technorati Tags: Tiltshift, Tilt+Shift, Tilt, Shift, Photography, Techniques, Allstate, Insurance
Cool Tool: The Portable Burr Coffee Grinder » « Flip Clock Screensaver for PC or Mac
I was looking for a nice calligraphy font to use for a greeting card I was sending off and I found this Font – Called Caliph – I really nice looking Calligraphy Font.
I have to admit this really is Great for making a card when you are press for time and don't have the patience to write this neatly. :-) Hey I am still trying.
Well, I am off again traveling around the area picking up things and moving things about.
The Blue Man Group: Music Art » « Merlins Take on the Super Bowl Ads
Announcing – Digital Camera Gear – www.DigitalCameraGear.com – Anyone using a digital camera, photoshop or even if you are still using a film camera we can help you become a better photographer. There is no guarantee on that! – but at least you will have some fun taking some photos and learning a few new techniques. All comments and suggestions are welcome either here at at Digital Camera Gear's site. Photography is one of my hobbies and I will be sharing my knowledge and experience. So stop on by – add us to your RSS reader and take some great photos. In the near future we will be holding some "Contest" for Photo of the week and give the users a forum to share your photos and learn from each other.
Digital Alan / Merlin
Tags: Art+and+Photography, Digital, Camera, Digital+Camera, Free, Gadget, Gadgets, Hacks, PHOTO, PHOTOGRAPHY, Photos
A Rather Remarkable Obituary » « Free Voicemail and Phone Number
Everyone needs some stock photos on their website or presentation or even school report. Well A Digital Dreamer has some very nice high resolution photo files that can be used. They ask to link to them if possible. They have 12 different albums with over 400 photos ranging from 1200 x 900 to 1600 x 1200. And yes these really are ROYALTY FREE. Some of the albums they have are as follows: Photographic Textures, Animals and Insects, Technology Stock, Landscapes and Scenery Stock, Flowers Stock, Trees and Plants Stock Photography, Cloud Stock and more…..
These would can be used as a great resource for your desktop wallpaper, backdrops in presentations, or as some graphics for websites.
Enjoy as I did – I used the one of the technology shots on the cover of my Hipster PDA.
Tags: FREE, STOCK, PHOTOGRAPHY, PHOTO, STOCK+PHOTO, SCREENSAVER, DESKTOP, WALLPAPER, FREEWARE
PDA – Back to Basics or Going from Digital to Analog » « Fountain Pen – Care and Feeding – Part 1 – How to fill a fountain pen
Some Stats on the Photograph taken from
his site
:
Adobe Illustrator was used for generating the majority of the basic shapes as well as all the buildings in the Chicago skyline.
The rest was created in Photoshop.
• The image size is 40 inches by 120 inches.
• The flattened file weighs in at 1.7 Gigabytes.
• It took eleven months (close to 2,000 hours) to create.
• The painting is comprised of close to fifty individual Photoshop files.
• Taking a cumulative total of all the files, the overall image contains over 15,000 layers.
• Over 500 alpha channels were used for various effects.
• Over 250,000 paths make up the multitude of shapes throughout the scene.
Prospective Employers Searching Web » « Color Blender – Online FREE color Matching Toolbox
Color Schemer – Found this site and it helped me work on this and a few of my other sites. Great for giving a nice list of colors that work together.
Description of their Software for the PC

Color Schemer Studio is a professional color matching application for anyone from hobbyists to advanced professionals.

Work with a dynamic visual color wheel, instantly explore harmony relationships and even let Color Schemer Studio intelligently suggest color schemes for you!